With the hunger to see the 6 Highest Mountains of the Himalayas, we start our adventure of Pikey Peak. So, let's make an adventurous journey to one of the most beautiful trekking site, Pikey Peak Trek.
Nepal is a landlocked country, hill, and mountains cover almost 2 thirds of the area. Peaceful green hill and pearly white mountains add to the beauty of Nepal. It seems the widespread plain land of Terai and Hills gives support to the Highest Mountains range of the world.
With Diverse Geographic, Multi culture, and Climatic conditions, Nepal is a piece of Heaven. The Himal, Pahad, and Terai all have distinct features. Despite being multilingual, multi-ethnic, and multi-religious, we all have unity in diversity. Being rich in Language, Traditions, Culture makes Nepal the best destination for Travelers.
Nepal could be a prosperous nation By utilizing these priceless heritage social norms, even the problem of unemployment can be solved. As such, hidden within these diversities of attraction, our destination is Pikey Peak Hill.
Pikey Peak Location and Feature
Located in lower Khumbu, ( Solukhumbu ) Tamakhani, at an elevation of 4060 and 4063 meters. Most importantly, this Pikey Peak offers the picturesque view of the High Himalayan Ranges as well as the valleys.
Pikey Peak is also the home of local festivals and rituals. Furthermore, the travelers come across some rare animals like Yak, Nak, Jho, Mountains Goats, and more. The whole area of Pikey Peak is a natural store of precious herbs, shrubs, and medicinal plants. The tranquil environment and natural blooming flowers are another attraction of the Pikey Peak area.
Over 25 Rhododendron species including Common Rhododendron, Chimal, White Rhododendron, Single petal Rhododendron covers the hill in the spring season. Similarly, Himalayan Pine, Taxus Baccata, Himalayan Fir, Thuja, Alpine Junipers populate the forest.
Especially in the monsoon season, Yak herds will make your journey memorable with wild damp greenery. With the beginning of autumn, Nak and baby yaks migrate towards the lower valley of Pikey Peaks, however, Yaks stay there in the wild. RANGE MELA is another important festival in this area which is celebrated in the first week of Shrawan (July) every year.
Verities of dairy tidbits made from Yak milk, like hard cheese, Butter, Cheese, Ice-cream, Pudding, Cream, Yogurt, and Paneer will make your taste buds jump with delight, here in Pike Peak Area. Potato is the staple crop of this region. Potato Pickle, Potato fry and boil, Potato bread, etc are major local cuisine. Above all, porridge of wheat and buckteeth are favorite food from Pikey Peak. During trekking in this area, the closeness with yaks, mountains goats, and Jhos is etched in our memories.
2 Pikey Hills: CHABAI PIKEY and GOLAY PIKEY
Pikey Peak Hill is one important religious cultural heritage of the Sherpa community. It carries its importance and definitions. Most importantly, CHABAI PIKEY ( Falay Pikey-4060m ) and GOLAY PIKEY ( Cylindrical Pikey-4063m ) hill are a major attraction. Pikey Peak also has local microclimatic features like Drizzle, light snow, and surface-level breeze, native to this locality. National and international tourists visit this Pikey Peak area to experience the High alpine environment. Similarly, Pikey Peak is home to Yoga, Meditation as well as Natural Physical therapy.
How To Reach Pikey Peak
Talking about How To Reach Pikey Peak, only a few options are available here. The driveway to Pikey Peak through Ramechhap via Jiri is most popular. Likewise, the alternate road from Manali to Dhade will take you there. However, the route from Kathmandu to Sallari is one of the best ways to reach Pikey Peak. This is the best option since the shorter distance as well as the scenic one. By any of these routes, you will be welcomed by beautiful small ponds, hills, streams, and herds of goats and yaks. A 4 wheel jeep drive or Bus starts form Chabhil, Kathmandu to Salleri, Solu-Khumbu. Although the distance is 280 KMS, it takes about 10 hours to complete this journey.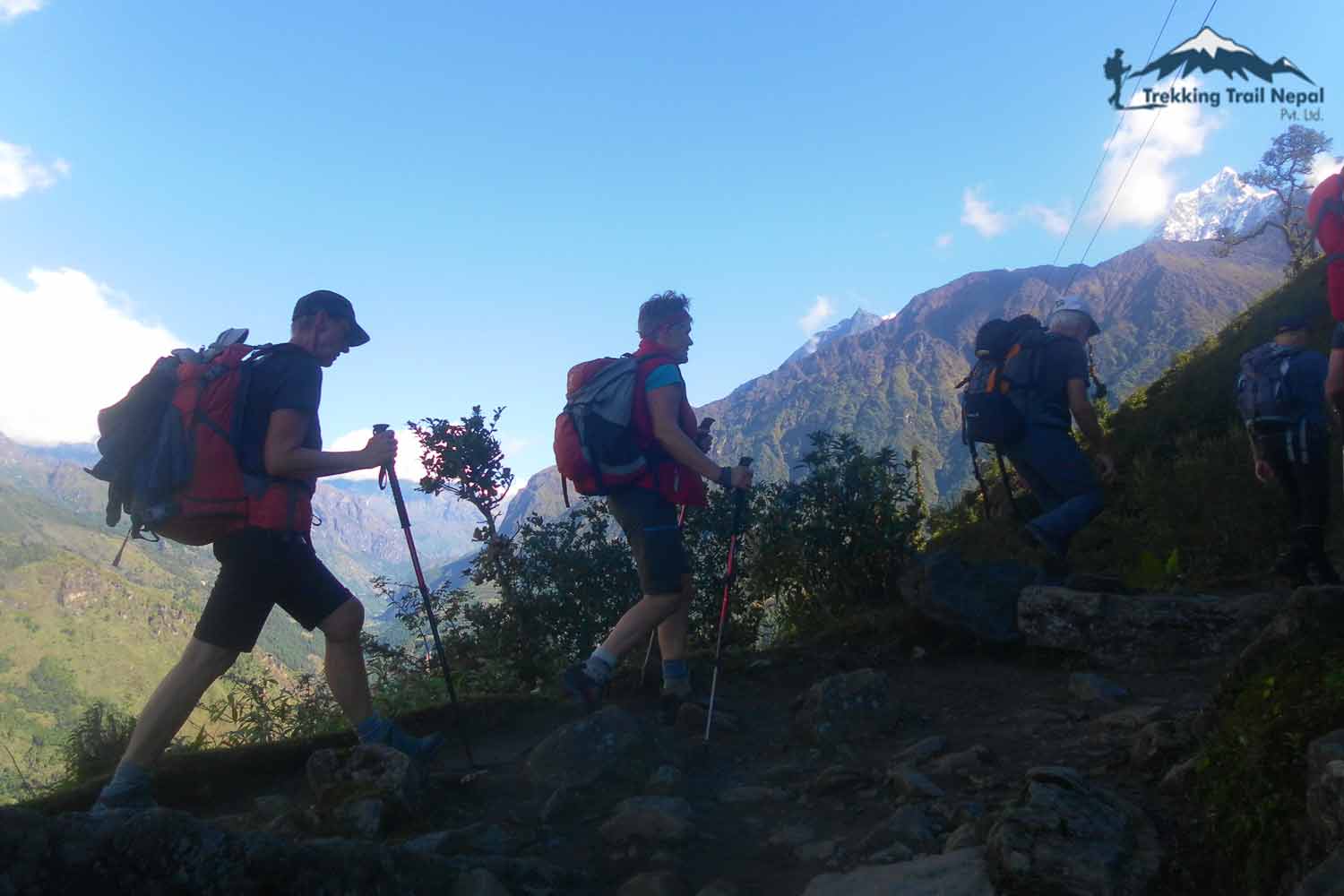 Day 1 Our Journey Starts at Dhaap
On reaching Dhaap, the cold as getting more bitter. Numbur, Sagarmatha, Makalu, Gaurisankar, Lhotse, Cho-Oyu, and several other peaks are visible from here. An ancient and culturally significant temple of goddess Changestan, is there. There was a popular belief of fulfilling one's wish and be blessed with peace and prosperity, on offering prayer in the temple. So, we did the same. Several peaks were also visible from that place. Beholding the magnificent views, we were baffled. It was a glimpse of the manifestation of heaven. And, through this epic and attractive views, we finally reached Paplu. There were several hotels in Phaplu, that were welcoming national as well as international tourists.
Culture and Traditions Explore in Pikey
In Phaplu, upon our request, the artists were ready for the Traditional Sherpa dance, depicting the Sherpa tradition and culture. It made us forget all our stress of both mind and body. Enjoying various cuisines, we went to sleep.
The next morning, we drank hot water, Suchiya ( Butter Tea ), and went to visit the Phaplu airport, Phaplu Hospital, Phaplu medical institute, and Monasteries carrying archaeological importance. We were delighted with the view of morning rays touching the small settlements of Khoriya, Odhu, and Tamakhani and again went to observe some special places. Afterward, moved to the historic Phaplu Gubma Located in the middle of the apple farm, offered prayers and offerings. Now it was time to get ahead on our journey. So, we set out to Junbesi.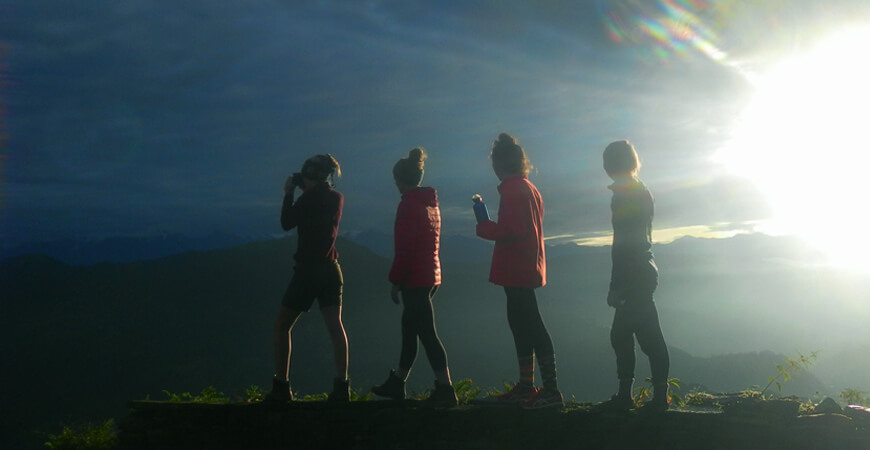 Green and welcoming fir trees, clean and fast-flowing river, were constantly supporting us on our trail. Furthermore, farmers were busy in their daily works in the fields. Potato, corn, and wheat were the staple crops grown in the region. In the evening, we reached Junbesi-2600m (also called Sherpa Gaun). Being a tourist site, there was a good provision of hotels and lodges. To get rid of the cold, we organized campfire, and held a feast, drank Ghople( A Himalayan Beverage), and slept.
Day 3 On Pikey Hill Trekking
On the morning of the third day also, we started with Suchiya. We went to the local Tashi Thokman Gumba which was 400 years old. Upon entering the Gumba we got a divine feeling of relaxation. Lots of idols of Gautam Buddha were inside the monastery which looked old and culturally important. On the occasion, we let ourselves into some meditation. Returning to the hotel, we found out our special Sherpa meal Thenduk or Shakpa had already been prepared. With the local ingredients such as Wheat flour, potato, dried mushroom, green leafy vegetables, radish, onion, Himalayan pepper, the Shakpa was truly tasty. We all got a welcoming taste of the Thenduk. Today, we plan to reach the Thopten Choling Gumba and return.
With the Sherpa village, green fresh natural scenery, and beautifully flowing river as well as the goat farms, on the way, we moved on our journey. As the source of income, the local people involved in animal husbandry. They trade animals like Cows, goats, and Yak. Walking on, we reached the Gumba. We prayed and stayed for one hour before returning.
On our journey to Pikey Peak, Today we plan to reach Kantur situated at an elevation of 2800 meters. Nearly at 6 in the evening, we reached Kantur; the homeland of Sherpas. We could get all kinds of food items at the local homestays. We enjoyed Didho, with local chicken soup. Having enjoyed the food along with campfire and dance we went to sleep.
Pikey Peak Trek Day 4
On the fourth morning, after tea and breakfast, we continued our journey. Today we had to reach the Pikey Bhanjhyang (Pass), near the Pikey peak. Enjoying the sweet touch of the Himalayan plants, we moved on. On our journey, we encountered many animals such as Yak, Nak, and Chauri Gai. We enjoyed the alluring views of the wild and free moving deers and their fawns. After finishing the hard uphill climb, we reached the Pabo Danda-3800m, from where beautiful sceneries can be viewed. We ate our packed lunch that we had carried upon the information of not having any shops on the way. On our way, we met many tourists returning from our destination. We reached Pikey Bhanjhyang in the evening.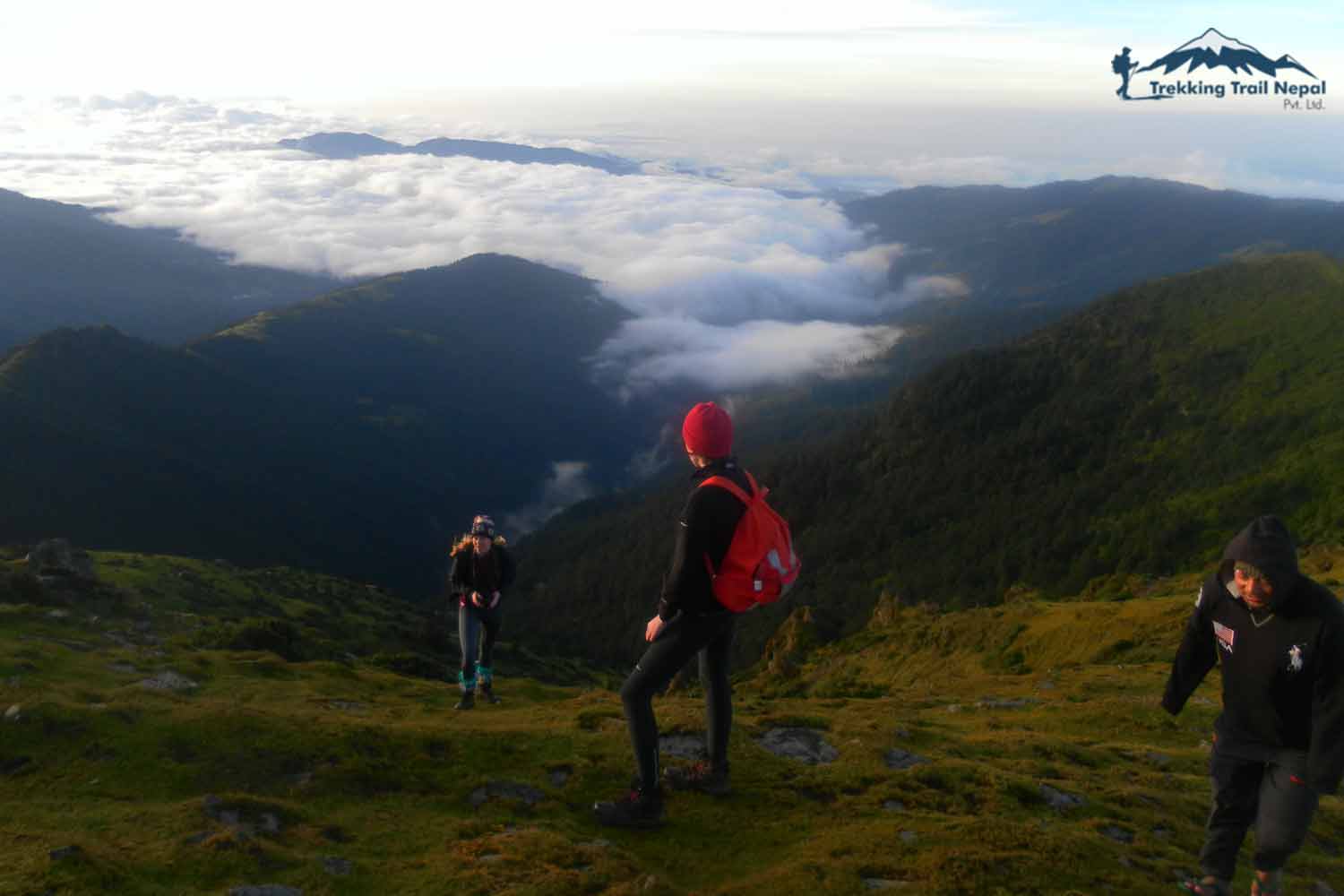 Hiking To Pikey Hill
We had to reach the Pikey Hill on the 5th day, which was the ultimate destination of our Pikey Peak Trek. So we woke up early in the morning, ate breakfast, and moved on. After about two and a half hours, we reached the Pikey peak. Pikey was different than we had imagined it to be. We could sightsee different places from here, as well as different parts of Nepal. Furthermore, we could view almost all mountain ranges of Nepal from a single place. Green and dense forest, scattered but beautiful villages and hills, all could be seen from the place. The cloud began to cover the Pikey peak within an hour, so we went to visit the historical Devi temple. At the same time, the cold was increasing by the minute.
Highest Mountains Views
The major objective of our Pikey Peak Trek is to view the glorious mountain range views. Pikey Peak is the only point of 4000 m elevation, However, we can enjoy 6 highest mountains in the world. Similarly, dozens of other Himalayas Mountain peaks can be viewed.
6 Eight-Thousander Mountain of Nepal
– Everest 8848 m, top of the world
– Kanchangunja 8586 m
– Lhotse 8516 m
– Makalu 8485 m
– Cho-Oyu 8201 m
– Annapurna 8091 m, 10th Highest Peak of the World
Other Highest Mountains from the Himalayas
– Numbur
– Gaurishankar
– Thamsherku
– Kusumkhangrung
– Ama Dablam – Most Iconic Mountain of Everest Region
– Dhorje-Lakpa
– Nuptse
– Rolwaling Mountain
– Mera Peak – Best Trekking Peak of Everest Region
– Kangtega
– Axe Peak
– Tabuche
– Cholothse
– Barunetse
– Kongde and many more…
The temple is a historical worshipping site of the people of Okhaldungha, Ramechhap, and Solukhumbu. We felt relieved by the aroma of Sunpati, Dhupia, and many other herbs at the place. People also came to collect Sunpati from different places. Then we moved to the place called the Base camp of Pikey peak. The local hotel manager welcomed us with the sweet music of Tungna, which was a local custom. We then moved towards the place located at the border of Okhaldunga and Solu-Khumbu, called Bhulbhule. With the encounter with the natural objects and beautiful sceneries as well as the Yaks and Naks, we reached Lamjhe. Lamjhe is the highest hill of the Okhaldunga district. There were blacktopped roads in Lamjhe.
Features en route Pikey Peak
Historical Buddha Stupas, Mane, and artistic creations were welcoming us on our journey. Big stones and multicolored Buddhist prayer flags were making the environment enjoyable and beautiful. Meanwhile, the sound of bells on the neck of Yaks and Cows made the surrounding lively. In the evening, we reached Bhulbhule. There were only two hotels there. We were too happy on finishing the historical Pikey Peak Tour. We enjoyed the delicacies of wheat and Potato. Before sunrise, we went to a nearby hill to observe the Sunrise. It was one of a kind feeling to witness morning sun from that place. The sunrise occurs at the same time from that place and Antudada of Illam. After some photo sessions, we returned to our hotel. Since we needed to return to Dhaap today, so we moved on. We observed beautiful hills, green forests, and historical Tolgumba on our way back.
We talked with some elderly people in the Gumba doing the usual prayers, about the historic importance of the Gumba. Various precious herbs such as Kurki, Jatamashi, Sugandhabal can be seen on the way. Moving through the dense forest of Guras and Chimal, we reached Rakhop located in Taaapting. We could see the new settlement being established at the place. Then we reached the historical place Jhapre. We observed the Gumbas, Buddhist Stupas, and Historical monuments in Jhapre. Resting for a while, we returned to Dhaap through Singane. The beautiful sceneries surrounding us in our way, did not allow us to feel a bit tired. In Dhaap, we decided to stay in The Sherpa Baajeko hotel.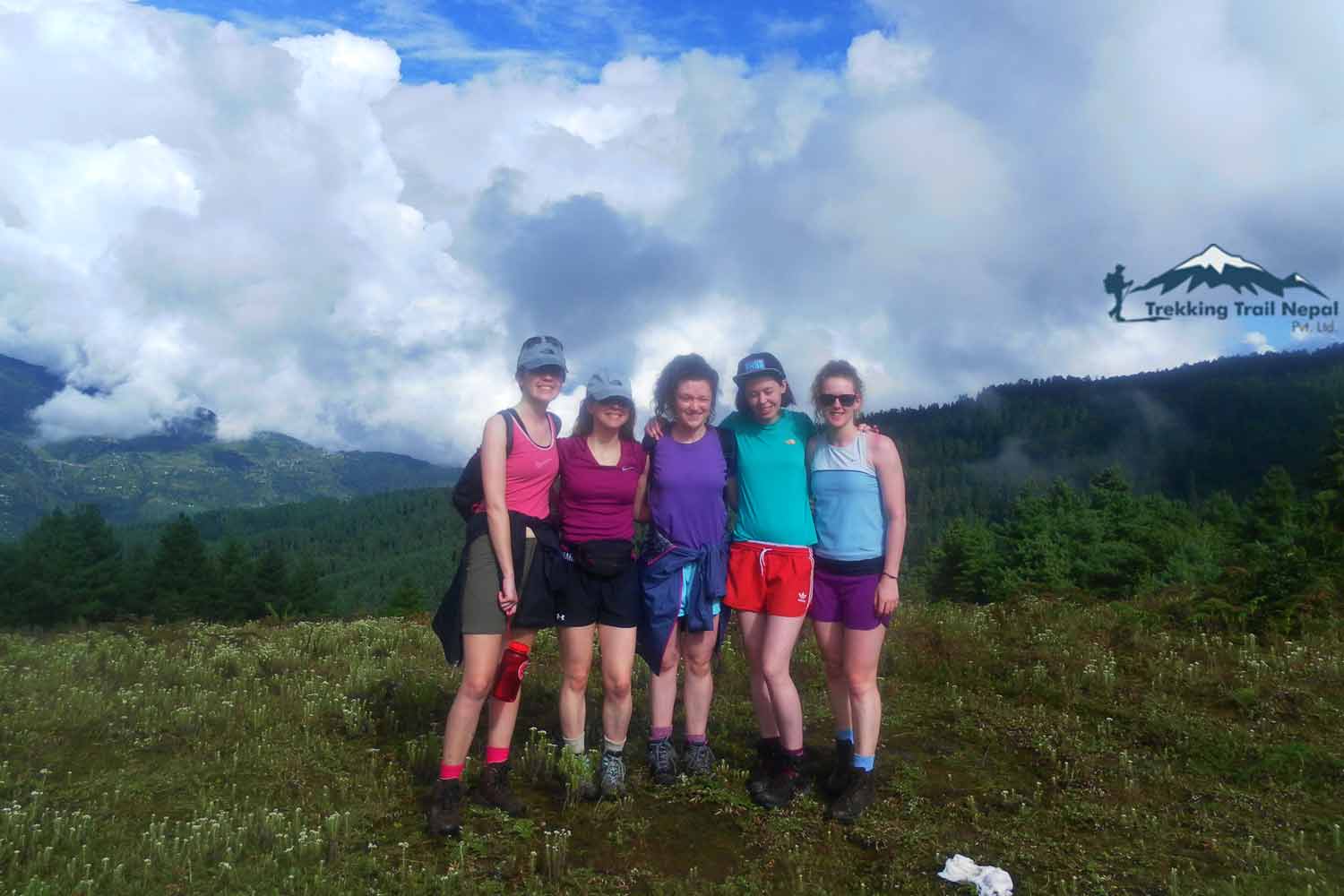 Dhaap: Ending Point of Pikey Peak Adventurous Trek
On reaching Dhaap we had completed a round trip of Pikey peak Trek. Looking back at the hill of Pikey, we could observe the small settlements of Taapting, Pallo Jantardhani of Okhaldunga, Kerung, Gorakh Khani, and beautiful sceneries on the way. The beautiful views were dancing in front of our eyes. The stay in Dhaap and the footsteps that we used to complete our journey were duly admired by everyone. The next day, we journeyed back to the capital Kathmandu and our journey of Pikey Peak Trek came to an end.
In conclusion, having had a journey of a lifetime, we were physically as well as spiritually delighted. Furthermore, Pikey Peak is a place one must visit once in their lifetime. It truly is a beautiful and magnificent place.